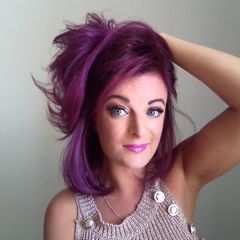 From Busy Salon to Online Hair Consultant: Bringing Haircare to Your Doorstep!

Hey there, lovelys! Let me take you on a journey from being a fully booked hairdresser, specializing in color correction and rescuing damaged hair, to embracing the online world as a hair consultant. When we had our salon i totally loved seeing the smiles and boosted confidence on my clients' faces after a fabulous hair appointment, it was the ultimate reward. But, let's be real, those long hours standing behind the salon chair took a toll on my poor feet! So, I put on my thinking cap and wondered how I could continue making people happy with their hair without sacrificing my own well-being. after years of telling my clients to "do their home work" use good products at home inbetween salon visits to maintain their colour and prevent any hair damage from hot styling i knew the power was in the aftercare! And so the idea of becoming an online hair consultant was born. So, grab a cuppa and let's dive into my story!

The Power of Aftercare:
Throughout my years as a hairdresser, I discovered a little secret to keeping those salon-fresh locks looking amazing – aftercare! Sure, I could give my clients an awesome color and cut, but it was the effort they worked at home with professional hair products that made all the difference. I'd always ask them, "did you do your home work? how many treatments have you done? remember i told you, using the right products will make your color last longer, keep your hair healthy, and protect it from heat damage!?"
So, I knew I had to find a way to get these fantastic products into their hands. And the proff was in the pudding, all my clients that took my advice had such GORGEOUS hair! My clients would love to tell me (and i loved to hear!) how they got stopped in the supermarket or whilst shopping, for people asking them where do they get their hair done it looks so shiny and healthy! This kind feedback always made my heart full! Who doesnt love a random stranger giving them hair compliments!?

Building a Haircare Haven:
And that's how Hair Care Cyprus was born! I set out on a mission to curate the best hair products available in Cyprus and make them easily accessible to anyone interested! No more running around town searching for the perfect shampoo or conditioner! With our online shop, you can browse through our carefully selected collection from the comfort of your couch. Plus, we've got a convenient delivery service that brings the haircare goodies right to your doorstep. Isn't that awesome? Now you can stay loyal to your favorite hairdresser while having access to the products you need to fix any hair woes you may have.

A Journey of Growth:
Wow, it's been over 12 years of growing Hair Care Cyprus, and let me tell you, the adventure has been fantastic! We're always on the lookout for new ways to help more people feel confident and look their best. Personalized recommendations are our jam! Whether you're a busy bee or a budget babe, we'll find the perfect hair products for your specific needs and lifestyle. And guess what? We love chatting with you! So, feel free to reach out through WhatsApp, give us a ring, or drop a message on Facebook or Insta. We're all ears!

Celebrating Success and Empowering Hair Health:
You know what brings a huge smile to our faces? Reading your comments and testimonials about how our products have transformed your hair! It's like a virtual hair party where we all dance and celebrate your stunning locks. Oh, and did I mention our giveaway competitions? Yup, we love surprising our fabulous clients with hair bundle prizes! From tackling hair loss and scalp issues to repairing damaged strands, we're here to lend a helping hand. Whatever hair woe you're facing, we've got your back!

So, that's the story of how I went from a bustling salon to becoming your friendly online hair consultant. We're (i say we because its me and Angela Whelan Kyriacou) all about making your hair dreams come true! Hair Care Cyprus is here to help you look and feel your best by offering personalized product recommendations and top-notch customer service. So, whether you want to unlock the potential of your locks or simply have a chat about hair, we're just a message away. Reach out to us through WhatsApp, give us a call, or find us on Facebook and Instagram. Can't wait to be part of your haircare journey!