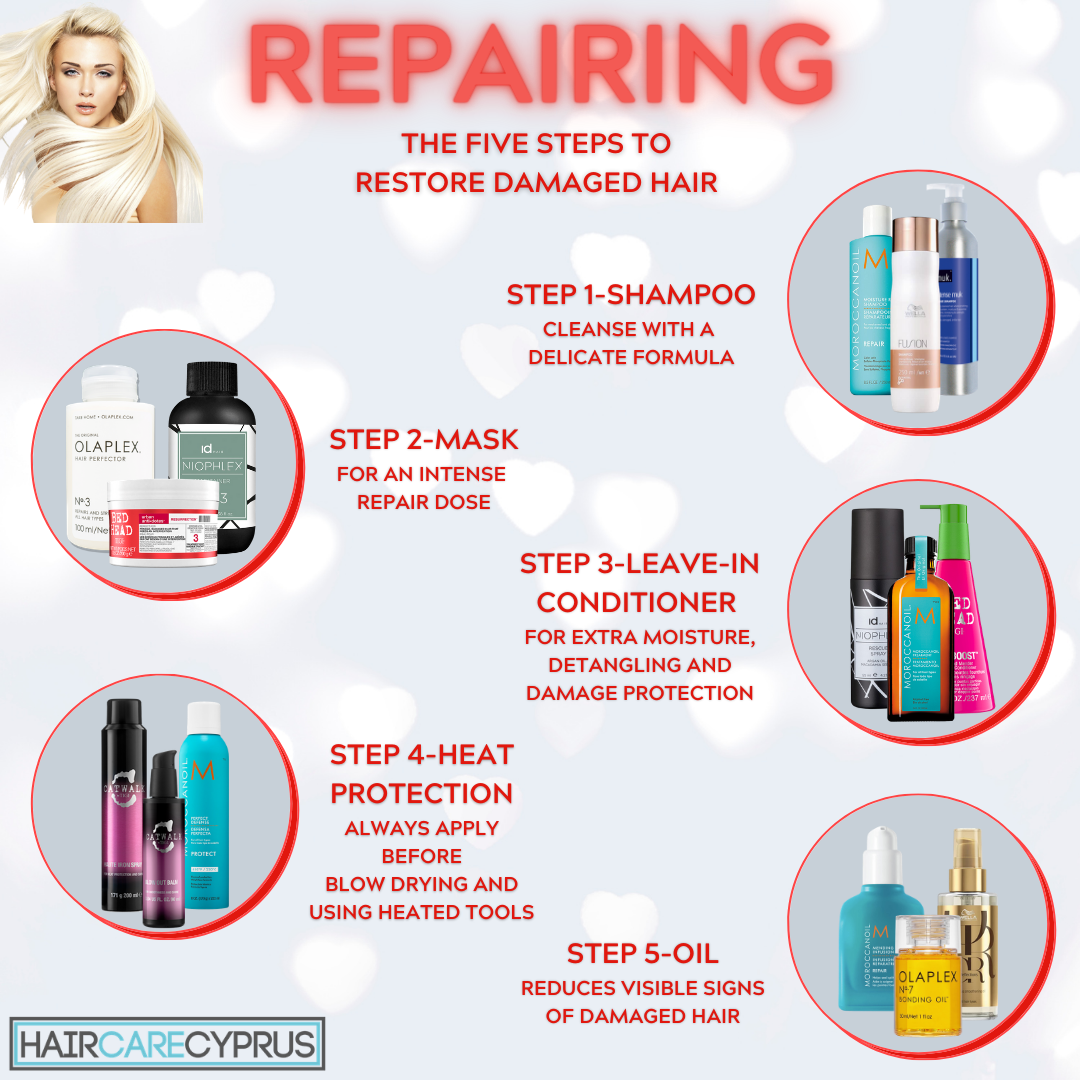 Unlocking the Secret to Repair Damadged Hair: A Comprehensive Guide. Revive Your Damaged Hair with These Top Professional Hair Care Products and tips!
Do you feel like your hair is damaged, dry, splitting, or breaking off? Are you struggling with split ends? You're not alone. Overuse of hot styling tools without heat protection products and frequent coloring can leave hair damaged and dehydrated. The good news is that with the right professional hair care products, you can not only repair your hair but also help it grow back healthy and faster than ever.
One of the most critical factors in repairing and maintaining strong hair is to take care of the hair bonds. Hair is made up of keratin, a protein that contains disulfide bonds. Coloring, heat styling, and chemical treatments can break these bonds, leading to weak, damaged hair. Repairing these bonds is essential to restoring strength, softness, smoothness, and bounce to hair.
One of the best products for repairing damaged hair is the K18 Leave-In Molecular Repair Hair Mask. This cream format mask works on the molecular level to reverse hair damage in just four minutes. The K18PEPTIDE™ is clinically proven to repair damage from bleach, color, chemical services, and heat, with immediate and lasting results to restore hair's strength, softness, smoothness, and bounce. The mask is pH-optimized (5.0-6.0) to help minimize cuticle swelling and put hair proteins in their most resilient state. It is vegan, color-safe, cruelty-free, and works on all hair types.
To use, shampoo your hair but do not condition it. Towel-dry your hair thoroughly and begin with one pump of the mask, adding more as needed. Apply the mask all over your hair, one pump at a time, and let it sit for four minutes. Do not rinse out. Comb your hair, add more product, and style as usual. Use the mask for 4-6 washes, then as needed.
Another excellent product for repairing damaged hair is the Olaplex No.3 Treatment. This weekly pre-shampoo treatment repairs and prevents damage for stronger, healthier-looking hair after just one use. The patented OLAPLEX Bond Building Technology™ rebuilds broken disulfide bonds to restore strength for visibly healthier hair. It's not a conditioner, mask, or protein treatment, but an innovative bond builder to repair damage where it starts, on a molecular level. Use it once a week, or up to 3x per week for very damaged hair.
The third option is the Repair category from the brand Moroccanoil. The restorative formulas are infused with argan oil and other nourishing ingredients to help repair damaged or weakened hair. The Moroccanoil Restorative Hair Mask is a 5-7-minute treatment for use on hair damaged by chemical treatments or heat styling. Its high-performance formula contains argan oil, shea butter, and vegetable proteins that help fortify hair, increase elasticity, and promote a healthier look and feel.
To use, after shampooing, apply a generous amount of the Restorative Hair Mask all over your hair and massage a little into the scalp. Leave on for 5-7 minutes and then rinse well. Use it once a week and less frequently as your hair improves. For thick, coarse hair, mix about 1 teaspoon of Moroccanoil Treatment with the Restorative Hair Mask for added shine and elasticity.
Using any of these professional hair care products can repair your hair from damage caused by bleach, hair dye, heat from hot tools, and chemical straightening services. They deliver immediate and lasting results, restoring hair from even extreme damage. They work on all hair types, and they're convenient, with leave-in formulas that work in just a few minutes.
In conclusion, taking care of your hair is vital, and using the right professional hair care products WILL make all the difference! If you want silky shiney, healthy hair is 100% easy and possible with the correct products that suit your hair and your own personal lifestlye. 
If you would like a video or phone call with Angela to figure out what products from our ranges would suit your hair type and budget please give her a call on +35799859378. Alternativly you could take our Free 2min hair quiz which will also give you product recommendations that suit you perfectly. 
To browse our Repair Category follow the link below. Happy hair Days! xxx 
 https://www.haircarecyprus.com/collections/wash-amp-care-repair-amp-hydrate