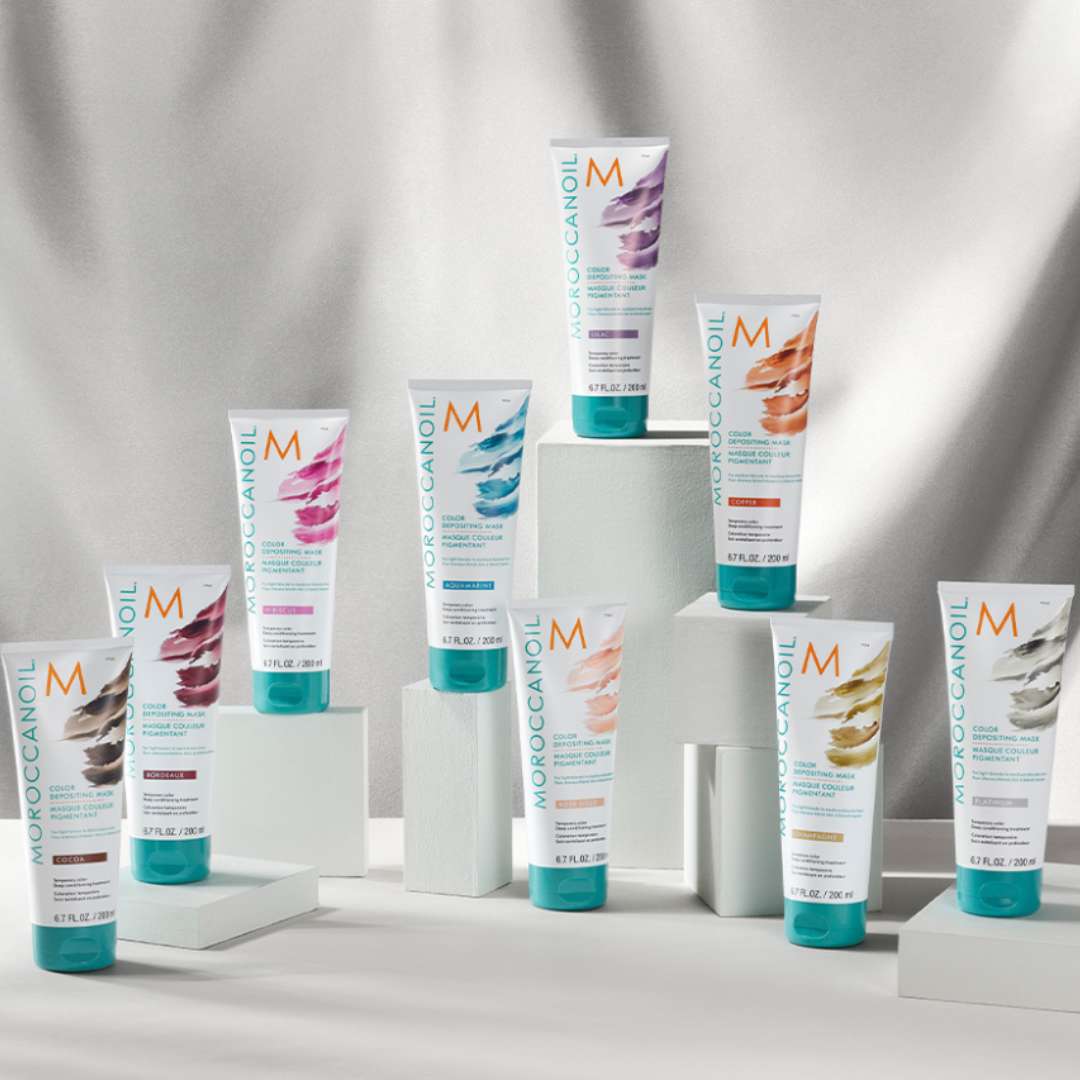 Elevate Your Hair Game with Moroccanoil Color Depositing Masks
Are you ready to elevate your hair game and explore a world of vibrant temporary colours? Look no further than Moroccanoil Color Depositing Masks. These revolutionary hair products offer a unique blend of temporary colour experimentation and deep conditioning treatment. With a range of curated shades, you can enhance your hair's vibrancy, play with fashion-forward hues, and extend the life of your salon colour between visits. Let's dive deeper into the wonders of Moroccanoil Color Depositing Masks and discover how they can transform your haircare routine.
A Blend of Colour and Nourishment:
Moroccanoil Color Depositing Masks go beyond providing just colour. Their specially formulated blend includes nourishing ingredients that promote healthy, beautiful hair. Each mask contains a potent amino acid blend, apricot kernel oil, and reparative ArganID™ technology. The amino acids work to strengthen the hair strands, while apricot kernel oil deeply nourishes and moisturises, leaving your hair feeling irresistibly soft and smooth. The innovative ArganID™ technology ensures that these nourishing ingredients penetrate deeply into the hair shaft, providing long-lasting benefits for your tresses.
Easy to Use, Endless Possibilities:
The simplicity of using Moroccanoil Color Depositing Masks makes them a dream come true for anyone looking to experiment with temporary colour. Applying the mask is as easy as can be. After shampooing and towel-drying your hair, distribute the mask evenly from root to tip. Leave it on for 5-7 minutes for a subtle colour boost, or extend the time for a more intense hue. Finally, rinse thoroughly, and voila! You'll reveal vibrant, head-turning results. For the adventurous souls, mixing and matching different shades allows you to create your own custom colour, making each style uniquely yours.
Maintaining Hair Health:
We understand that maintaining healthy hair is of utmost importance to you. Thankfully, Moroccanoil Color Depositing Masks are designed with your hair's well-being in mind. The nourishing ingredients in these masks ensure that you can experiment with temporary colour without compromising the health or integrity of your locks. Now, you can indulge in the thrill of change while knowing that your hair is receiving a deep conditioning treatment that leaves it looking and feeling healthier.
Unleash Your Creativity:
Moroccanoil Color Depositing Masks provide a platform for you to express your individuality and artistic side. Whether you're craving a bold new shade, wanting to refresh your current colour, or simply looking to have fun with your hair, these masks offer the perfect solution. With a wide range of curated shades to choose from, you can play with vibrant hues, add dimension to your style, or simply extend the life of your salon colour in between appointments. The possibilities are endless, and the results are sure to turn heads wherever you go.
Moroccanoil Color Depositing Masks offer a unique combination of temporary colour and deep conditioning treatment. With nourishing ingredients like amino acids and apricot kernel oil, your hair will look and feel healthier with every use. These masks provide an avenue for creativity and self-expression, allowing you to experiment with a wide range of curated shades and embrace your individuality. Say goodbye to dull hair days and hello to vibrant, head-turning locks. Visit our website or your nearest retailer today and unlock a world of endless possibilities for your hair!
These revolutionary masks are an absolute essential in our hair care routine!  We LOVE them!