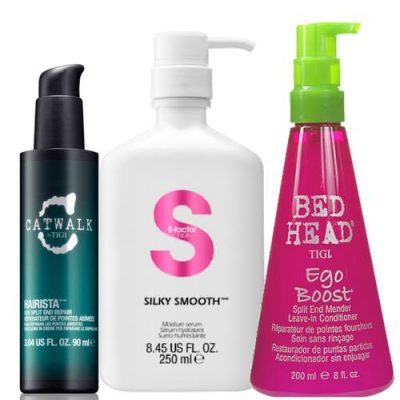 How to get rid of split ends forever!
I think it's safe to say we all hate split ends!
So hands up if you would love to know the secret of how to never get a single split end ever again!
I bet you didn't even think that was possible right?
Are you sick of wanting and waiting for your hair to grow but never seeming to get anywhere?
If you have split ends, it's the number one indicator that your hair is not happy
To have happy hair you need a healthy balance of moisture and protein. Think of this like your healthy hair diet.
When your hair splits, that is your hair screaming out that it's dry and weak. So it's literally just dying and giving up. Your hair grows around 1cm from the roots every month, without fail. So if you have roots but you're not seeing it getting any longer…. your hair is dying at the ends!
Want to know the worst culprit for split ends?……………STRAIGHTENING IRONS!
I know so many women who straighten their hair every day and wouldn't even consider applying heat protection spray first.
Well I can tell you something, just by changing that you would see a massive difference in your hair.
Actually I'm going to use my lovely friend Laura as a perfect example for this.
Laura loves super straight hair and we all know that in the summer you're fighting a losing battle with that one. But laura does her best. Battering her hair every day with those straightening irons. She knows I watch in horror as she straightens her hair!
So one day laura came for her 6 weekly haircut. (a compromise we came up with so I didn't have to mourn her hair death every time we met up).
But this time I was super shocked by her lack of split ends.
I thought maybe her straighteners had broken or something.
I didn't know that she had come into the salon and bought a moisture/protein serum for her hair and was putting it on every morning along with her heat protection spray before the straighteners.
Even I was amazed what a difference that made. Usually I would just advise to put oil on the ends every day for moisture. But clever laura had come up with a new winning combo to battle the splitters!
Ever since, I also put that serum on the ends of my hair every morning. Now, even though I colour my hair like a mad woman, my hair is growing, from the roots and at the ends. Happy, healthy hair grows like wildfire and split ends become a distant memory!
So here are my top three recommendations for gorgeous happy hair;
1.Use heat protection spray before any heat touches your hair. My favourite is Catwalk Haute Iron Heat Protection Spray.
2.Put moisture/protein serum on the ends of your hair every morning. The strongest one I've found and love is S Factor Moisture Serum.
3.The ultimate "must have product" for any hair will always be a mask. I would recommend just popping into the salon or sending me a quick hair selfie and just from that I will be able to recommend a mask specifically for your hair type and what it needs.
As always guys, if you would like any help with your hair, we are always happy to give advice and fix even the smallest of hair problems. All you gotta do is ask!
Join us on facebook @ Aphrodite Hair Salon Paphos & @ Hair Care Cyprus Online Shop
For all your hair care needs check out our eshop, for fast easy delivery to your door @ www.haircarecyprus.com
And my number is 99859357
All my love
Happy hair days!
Big kisses
Georgina xxx