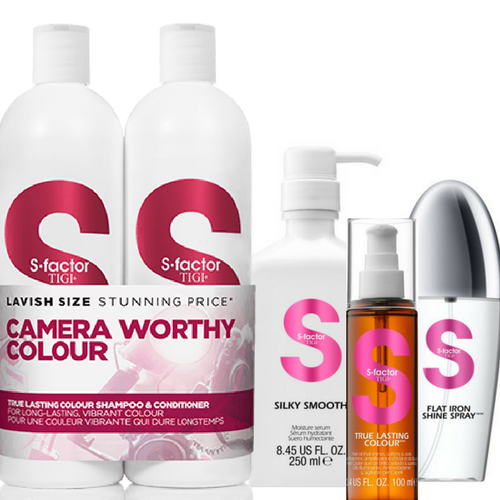 How to use your new products
Congratulations you have made the first most important step towards gorgeous sexy hair that you want.
This is your hair prescription and step by step to do list, which explains how exactly to use each product daily.
These steps followed daily and consistently, continuously till the end of time, will leave you with perfect, beautiful hair forever more.
As your hair condition improves your prescription can change slightly.
From where you are now.
On a scale of 1 – 10; 0-5 is like an intensive rehab for your hair and 5-10 is maintenance and consistency that will keep your hair in perfect condition forever. So as your hair improves your products may change because we want 10 out of 10 Hair!
I like to compare your hair care regime to a gym and healthy eating plan.
You can go the gym and have a great workout leaving you feeling pumped and full of energy = salon visit where the hairdresser puts all the magic lotions and potions on your hair and it feels amazing.
You leave the gym and go and eat Mcdonalds cancelling all your hard work and leaving you feeling rubbish = you go home from the salon and for the next six weeks use crap supermarket products on your hair and wonder why it doesn't feel the same as it did when you left the salon.
If you want salon perfect hair every day, it is 100% possible with your awesome hair prescription that you will start to use today!
I'm excited, and can't wait for you to see the changes that will soon be happening for you!
Your hair products and step by step to do list:
Shampoo and Conditioner
Shampoo your hair on average every 3-4 days.
These products are concentrated and have a thicker consistency so you don't need to use as much as you would with lower quality products.
Make sure your hair is wet through and put 1cm size blob of shampoo in the palm of hand and rub into a good lather. Wash all roots, add water and emulsify through to the ends. Repeat the process.
Conditioner, again use a 1cm size blob and apply to ends. Comb through with fingers or wide tooth comb. Leave for two mins then rinse through hair.  
The 250ml bottle usually last around 2-3 month. The large bottles should last 6-8 months as long as you use the correct amount
Mask
If your hair is feeling like it needs an extra boost you need to use your mask as conditioner is not enough. Conditioner only closes the cuticle of the hair after washing. It doesn't add any extra moisture or protein, that's why you need to mask your hair.
Shampoo like normal then squeeze out excess water. Take a two euro blob of mask and apply first to mid lengths and ends. Depending on length of your hair you might need to do two separate applications to make sure you didn't miss any out. Apply to problem areas first e.g. Front ends and top section. Then comb through with fingers or wide tooth comb. Must put plastic shower cap over. The heat from your head will help your hair absorb all these goodies. Leave this on for 10-15mins. Rinse then apply leave in conditioner.
Leave in conditioner
Use this every time you wash. Also to re dampen an restyle hair on the days you're not washing it. From when you take the towel off your head, spray your  leave in conditioner all over front hair line, middle and ends. Then comb hair through with wide tooth comb or paddle brush.
Moisture Serum
This can be applied every day. Two pumps rub into hands and apply on the ends first. At the front then top back section. Then comb through with your fingers all over.
Heat Protection Spray
When using straightening irons. Apply heat protection spray, holding spray 10cm away from head give all hair a light mist. Hold front sections and spray ends directly. Then section from the bottom, and clip up, ready to straighten.
When using straightening irons. Take thin clean section. Do it slow, do it ONCE! Then move to the next section. Finish the back, then move to the sides, then lastly your fringe.
(do it once, small sections, clean accurate. Do it once then don't go over it!
Oil
Every day pick me up! 2-4 pumps into palm of hand. Rub all over hands. Apply First to the ends front, then back, then top and all through. If you have weak or damaged hair on your hairline, put a little there also.You can apply to scalp and on baby hairs to strengthen them. This oil is light and nourishing it will feed the hair.
Multi vitamins
Take them every day. These little capsules are going to feed your hair from the inside. If you want to grow your hair or make its stronger, multi vitamins for hair and general health are a fantastic addition to your hair care regime!
On days that you're not washing your hair.
Wake up. Apply oil to ends and run fingers through all over. Then comb/ brush.
If you still have unwanted kinks blast with the hair dryer and try to gently, using your fingers like a comb, pull them out. Or blow dry over with blow dry brush. If straightening irons or curlers are desperately needed, apply heat protection spray and use hot iron scarcely.
Top tips when blow drying your own hair:
Apply products evenly throughout the hair, concentrating on extra dry parts like the top and front ends.

For best result detangling hair, use a paddle brush, "wet" brush or tangle teaser

Make sure you have the correct brush to blow dry your hair. Has to be a round blowdry brush,preferably ceramic

Always use the nozzle on the hair dryer, and Always make sure the nozzle is forever pointing down

Take good clean sections, work methodically from bottom sections up to the top

Always use your sectioning clips to separate the hair from the part you are blow drying

If the hair is dry and tangled by the time you get to the top, apply a little oil or leave in conditioner to the end. This will make it easy for you to blow dry.

No tugging = no breakage = long happy hair
As always if you need any extra help just send me a message. Also don't forget to check out the videos on YouTube I made for you showing you how to blowdry your own hair and how to flat iron or use curling tongs.
Happy hair days! All my love,
Georgina
Your Hair Coach xxx