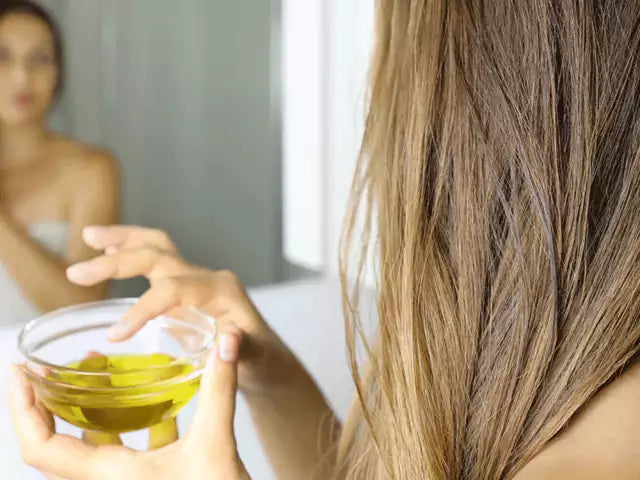 NO! to coconut oil in you haircare routine!!!
Coconut oil has been touted as a miracle hair treatment for years, with many people swearing by its ability to moisturize, strengthen, and repair hair. However, according to hair experts, this popular oil may not be as effective as people believe. The molecule of coconut oil is too large to penetrate deeply into the hair, so it only coats the surface, making it temporarily soft. Over time, the build-up of this non-soluble substance on the exterior of the hair shaft can prevent the hair from breathing and even cause a barrier when trying to color it. The build-up can also make the hair smell bad and be difficult to wash away.
If you want to repair your hair after coloring, the best way is to use a protein/reconstruction mask. This type of treatment can help to strengthen and repair damaged hair, leaving it looking shiny, thick, and healthy.
Instead of coconut oil, hair experts recommend using Olaplex Nº.4C Bond Maintenance Clarifying Shampoo. This shampoo is designed to remove heavy metals and pollution, as well as oils, product build-up, minerals, and chlorine from the hair. It clarifies the hair without stripping it, leaving it feeling soft, hydrated, and touchable.
After using the clarifying shampoo, you can follow up with Olaplex N°.7 Bonding Oil. This highly concentrated, weightless styling oil repairs damaged and compromised hair, strengthens and protects hair structure, and restores healthy appearance and texture. It dramatically increases shine, softness, and color vibrancy while minimizing flyaways and frizz.
When it comes to hair care, it's essential to be careful about who you listen to. Just because a celebrity recommends a particular product or treatment doesn't mean it's the best choice for your hair. Listen to the advice of hair experts and use high-quality products that are specifically designed to address your hair's unique needs. By doing so, you can help keep your hair looking healthy, shiny, and beautiful.
Check out our full range of Top branded professional hair oils by clicking the link below! 
https://www.haircarecyprus.com/collections/styling-products-shines-oil
😉 #gorgeoushaircolor #shinyhair#hairdressermagic #hairmask#hairtreatmentmask #haircarecyprus#aphroditehair #tigi #bedhead#moroccanoil #wella #princesshair