Regular price
€72,00 EUR
Sale price
€65,00 EUR
Unit price
per
Sale
Sold out
Mediceuticals® Scalp Therapies are specifically formulated to treat various problems, including dandruff, oily and dry scalp, scalp sensitivity, and scalp irritation. The line consists of technologically advanced products designed to target specific scalp issues and help restore scalp and hair health.
SCALP TREATMENT KIT (DANDRUFF)
 3-step program for the treatment of dandruff and various scalp problems.
Helps treat dandruff, flaking or a red, irritated scalp.
Soothes a red and sensitive scalp.
Helps control overstimulation of cell production that causes scalp conditions.
Slows down the production of excess skin cells.
Removes build-up of dead skin cells.
Works anti-inflammatory.
Soothes and calms the scalp.
Controls flaking on the scalp.
Balances the acidity (pH value) of the scalp so that it can function optimally.
SLS & SLES free formula.
This Scalp Treatment Kit contains 1x Therarx 250ml, 1x X-Folate 250ml and 1x Therapeutic 250ml.
3 step program for the treatment of dandruff and various scalp problems.

Step 1: THERARX™ (250ml)
Purifying treatment for scalp and skin.

Step 2: X-FOLATE™ (250ml)
Shampoo for treating dandruff and various scalp problems.

Step 3: THERAPEUTIC™ (250ml)
Soothing conditioner for hair and scalp.
Directions: Apply Therarx to affected scalp or skin area with fingertips, tissue or cotton pad (do not add water). Leave on for 1 – 2 minutes, apply X-Folate shampoo directly over Therarx and massage into hair and scalp, leave on for 2 – 3 minutes then rinse thoroughly. Apply Therapeutic to towel dried hair, leave on for 2 – 3 minutes then rinse thoroughly.
For free Scalp/Hair loss Consultation with 200x magnified Mediscope Camera we can recommend the perfect products to heal and restore hairs optimum health! 
Our results in hair restorations are amazing and we love to help! Call us to book your appointment 99859378 with Angela
WHAT IS DANDRUFF?
Does your scalp itch and do you have little white flakes in your hair and on your clothes? If so, dandruff is the most likely culprit. Dandruff is a harmless yet irritating scalp condition that is extremely common and often recurring.
The tell-tale white flakes are dead skin cells caused by an acceleration of the skin's natural renewal process. Usually, this process takes two weeks, but with dandruff, the cells renew twice as fast. As a result, more dead skin cells build up and flake off, leaving white flecks in your hair and on your clothes.
Dandruff is easy to treat with our Dandruff Kit: a three-step plan that includes a pre-treatment product, a shampoo, and a conditioner. These products penetrate deep into the scalp and target even the most stubborn dandruff.
Psoriasis capitis
This condition is common among people who have skin psoriasis. With this form of psoriasis, the scalp becomes scaly and itchy. If left untreated, it can even lead to hair loss.
TREAT SCALP PROBLEMS ON TIME
Scalp problems often cause red, itchy, and flaky skin, which can even lead to hair loss in the long term. That's why it's important to start treatment as soon as possible. The sooner you address scalp issues, the faster you'll be symptom-free and the healthier your hair will be.
Scalp problems: causes and solutions | Mediceuticals (mediceuticalsusa.com)
Share
View full details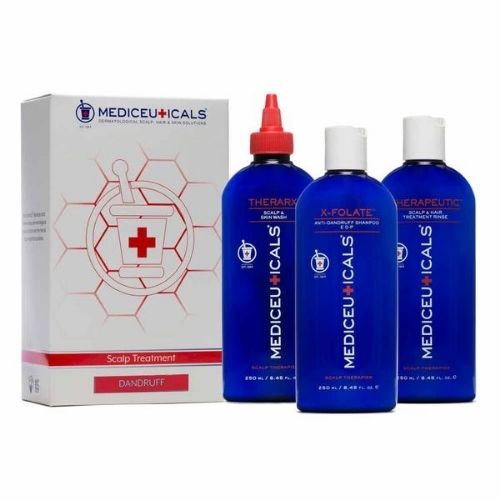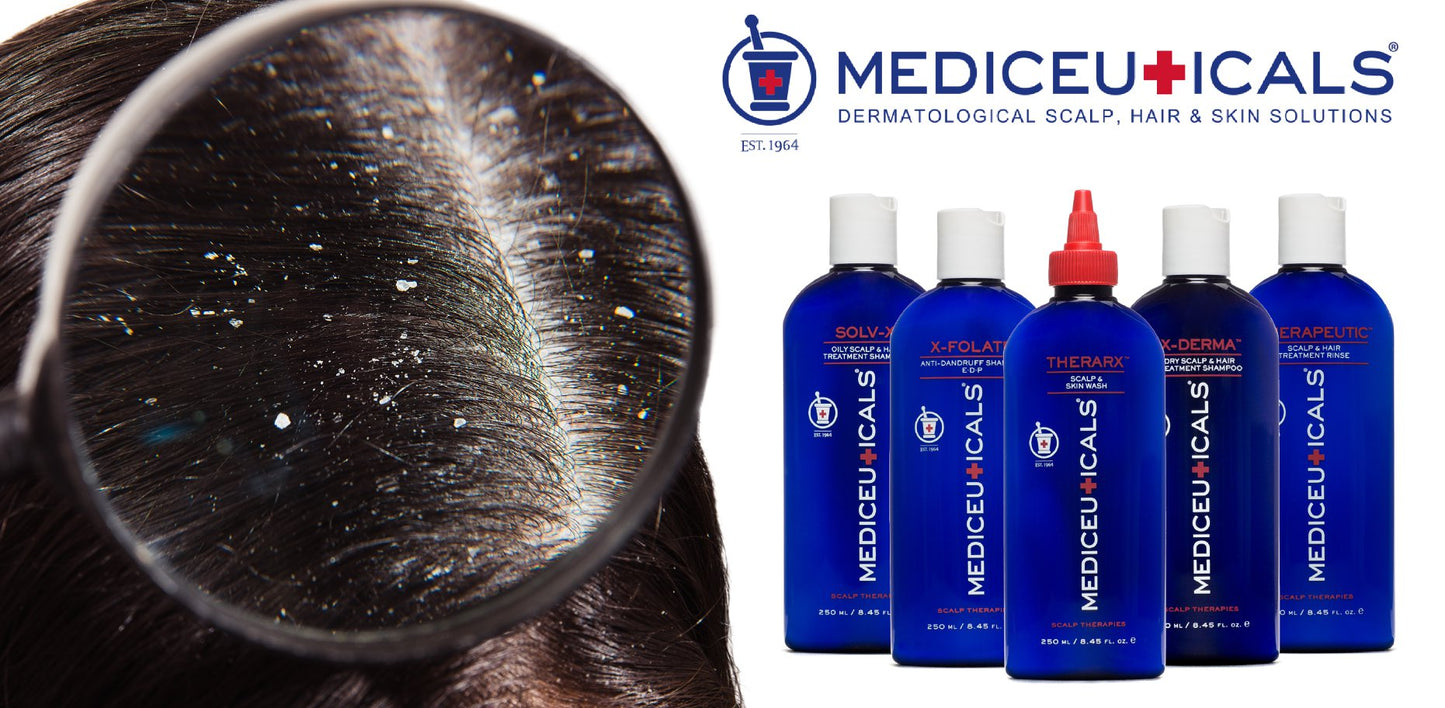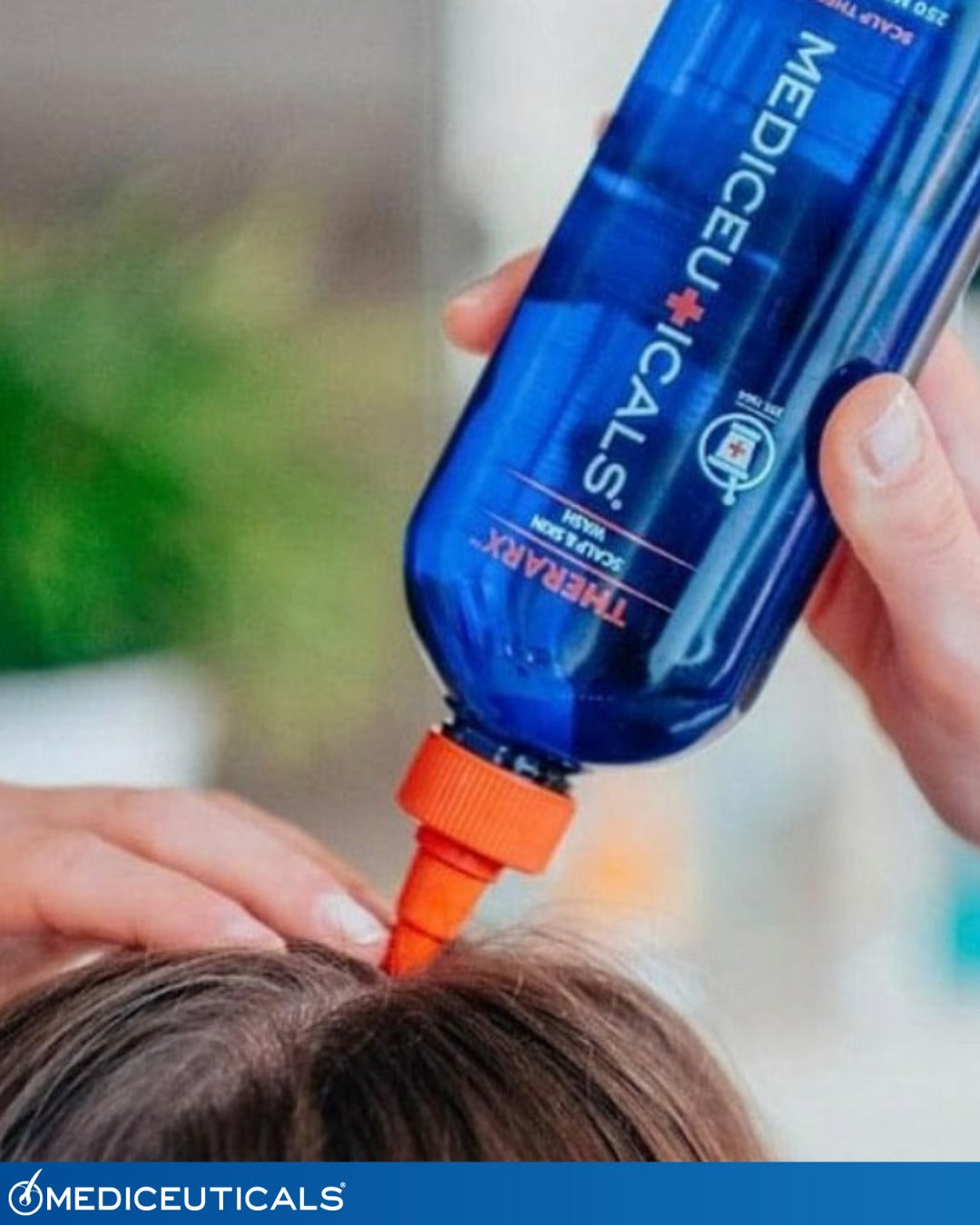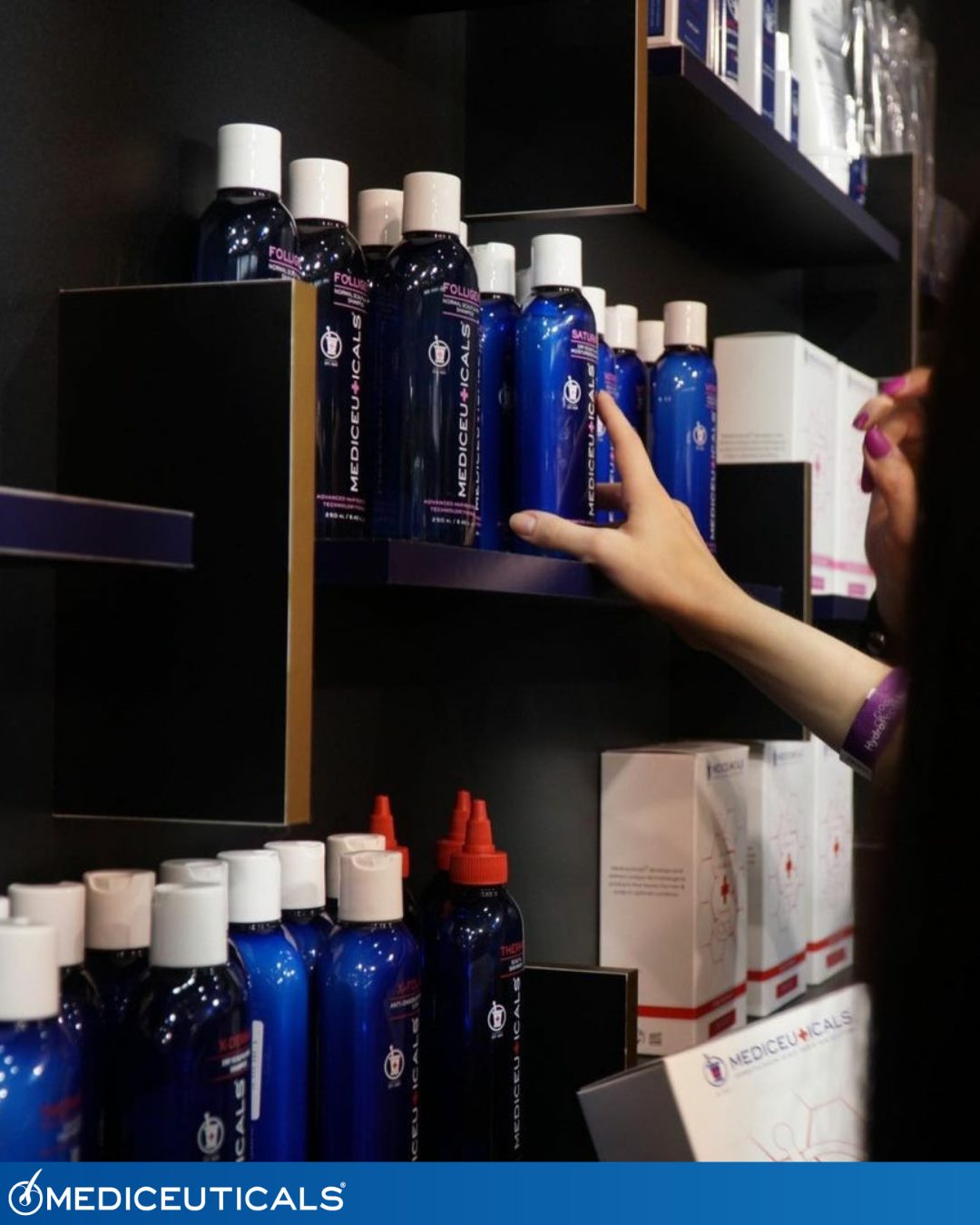 Free Delivery Available!

FREE delivery to your nearest ACS office when you spend over €50!

15% off your first order!*

Use code myfirstorder19 at checkout.

(Excludes special offers, gift sets, and already discounted items.)